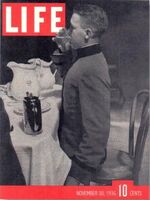 The 1930s was a decade that ran from January 1, 1930, to December 31, 1939.
Technology
Edit
International issues
Edit
Literature and art
Edit
Popular culture
Edit
Disasters
Edit
1933 - King Kong rampages in New York, destroying an elevated train, a Curtiss Helldiver biplane and killing several citizens.
Chief engineer for the Los Angeles Department of Water and Power, Hollis Mulwray, embroiled in a fidelity scandal and later found dead by drowning at the Oak Pass reservoir in 1937.[1]
World leaders
Edit
References and notes
Edit
Ad blocker interference detected!
Wikia is a free-to-use site that makes money from advertising. We have a modified experience for viewers using ad blockers

Wikia is not accessible if you've made further modifications. Remove the custom ad blocker rule(s) and the page will load as expected.