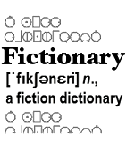 Welcome to the Fictionary, a collaborative project to produce a fiction dictionary with definitions, pronunciations, sample quotations, synonyms, antonyms and translations of fictional words. The Fictionary also contains words from fictional languages and words that appear in fiction. Experiment in the sandbox, visit our Community Portal or discuss the Fictionary on the Fictionary forum with other members.
Ad blocker interference detected!
Wikia is a free-to-use site that makes money from advertising. We have a modified experience for viewers using ad blockers

Wikia is not accessible if you've made further modifications. Remove the custom ad blocker rule(s) and the page will load as expected.